Brief Interventions for Radical Change
Focused Acceptance and Commitment Therapy
About This Course
Join Kirk Strosahl, PhD, a co-founder of Acceptance and Commitment Therapy (ACT), for this online course that will teach you the essentials of an important innovation in ACT: Focused ACT, or fACT. This highly practical course focuses on applying powerful brief intervention approaches to the treatment of depression, anxiety, trauma, and other common mental health and substance use concerns. There are four essential features of the fACT approach that will guide the session series. Strosahl also incorporates these features into the fACT approach with a mental heuristic called the CARE model.
The CARE approach will empower you to handle clinical conversations in a consistent way, across difficult clinical situations. This online course will focus on helping you develop clinical skills so that you can efficiently complete each aspect of the CARE approach. Along with didactic instruction, each session will consist of exercises designed to improve your clinical skills, and allow you to set both short- and long-term learning objectives for your clinical practice. We will also make use of video demonstrations that exemplify various aspects of the CARE approach.
Therapists are increasingly being asked to do more with less. That means using fewer and fewer sessions to effectively treat clients presenting with a wide range of mood and anxiety conditions, often involving co-occurring trauma histories. In this workshop, you'll learn fACT, a brief version of ACT that treats every therapy session as if it might be the last. You'll learn to optimize the impact of each meeting between you and your client. Using fACT, you'll learn to employ a highly effective sequence of clinical activities, collectively known as CARE. The CARE framework will help you organize your clinical conversations in each session to maximize the likelihood of transformational change even in your most challenging clients.
Schedule
Session 1 | February 4, 2020, 1 PM—3 PM EST
An Overview of fACT, Brief Therapy Theory, and the CARE Approach
Session 2 | February 11, 2020, 1 PM—3 PM EST
Contextualize the Problem
Session 3 | February 18, 2020, 1 PM—3 PM EST
Assess and Attack Avoidance
Session 4 | February 25, 2020, 1 PM—3 PM EST
Reconnect Values and Emotional Pain
Session 5 | March 3, 2020, 1 PM—3 PM EST
Experiment with New Approach Behaviors
Session 6 | March 10, 2020, 1 PM—3 PM EDT
Depression Isn't What You Think It Is
Learning Objectives
Participants will be able to:

Discuss the evolution of, and evidence for, brief interventions and the parallel evolution of fACT.
Demonstrate the four core features of the CARE model and apply them to mood and anxiety problems.
Discuss the three contexts of human experience and the role they play in the production of depression, anxiety, and human suffering.
Demonstrate the basics of change oriented, contextual interviewing to create a new and different frame of reference for the client.
Describe the important role of emotional and behavioral avoidance as key causes of depression and anxiety states, and as the root cause of most forms of suffering.
Conceptualize, instigate, assess, and undermine unworkable client avoidance behaviors, using the therapy session as a training lab.
Discuss the important role that personal values play in the production of distressing emotional experiences.
Demonstrate reframing strategies that help legitimize and humanize the client's emotional pain, thereby reducing need for avoidance, in the name of pursuing important life outcomes.
Discuss how fACT helps depressed and anxious clients behave their way out of suffering.
Discuss how to conceptualize key fACT strategies for setting up successful, motivation-building field experiments.
Demonstrate how to apply fACT concepts to create a new understanding of what depression is, and is not.
Apply this new perspective on depression to change oriented interviewing, attaching avoidance behaviors, re-linking avoided feelings to important personal values, and expanding the client's willingness to engage in approach behaviors.
Continuing Education
Please review complete CE and conflict-of-interest disclosure information prior to registering. This course is jointly sponsored by Praxis CET and Institute for Better Health (IBH) and is approved for 12 CE Hours by the following:
APA – Psychologists
ASWB – National Social Workers
NBCC – National Counselors
NAADAC – Drug & Alcohol Counselors
NY State – Counselors and Social Workers
Other State Level Counselors, MFTs, and Social Workers
WESPSB – Educators
ACCME – Physicians
ANCC – Nurses
Prerequisites
Some level of familiarity with the ACT model in clinical practice is recommended but not required.
Audience
All health and mental health professionals, beginner to advanced.
Recommended Reading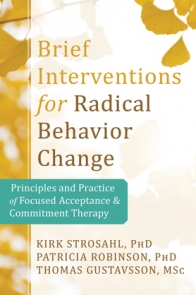 Brief Interventions for Radical Change: Principles and Practice of Focused Acceptance and Commitment Therapy
by Kirk Strosahl, PhD, Patricia Robinson, PhD, and Thomas Gustavsson, MSc
References
Strosahl, K. & Robinson, P. (2017) The mindfulness and acceptance workbook for depression: Using acceptance and commitment therapy to move through depression and live a vital life, 2nd Ed., Oakland, CA: New Harbinger Publications.
Strosahl, K., Robinson, P. & Gustavsson, T. (2015) Inside this moment: A clinician's guide to promoting radical change in Acceptance and Commitment Therapy. Oakland, CA: New Harbinger Publications.
Strosahl, K., Robinson, P. & Gustavsson, T. (2012) Brief interventions for radical change: Principles and practice of Focused Acceptance and Commitment Therapy. Oakland, CA; New Harbinger Publications.
This training is worth 12 CE credit hours if attended live. While we can only provide CE to those who are present – i.e. logged in – for live presentation(s), all Praxis webinars are recorded for later viewing. Registrants may then access these recordings at any time for up to six months from the conclusion of the training to which they pertain.
Technical Requirements
This is an online learning event. Access to a computer and high-speed internet is required. Refer to our FAQ page for further information on technical requirements for this training.
Refund and Cancellation Policy
We understand, sometimes things come up!
Praxis will offer a full refund to registrants of both live and live-online trainings who cancel their registration prior to 14 days before an event/course. If a registrant would like to cancel their registration within 14 days of the event, no refund will be offered. However, the registrant can elect to receive a credit to be used toward another Praxis event within 1 calendar year.